Facial & Body Massage
Luxury Organic Facial
Using products from the Neal's Yard Organics range, this luxury facial comprises a thorough cleanse, exfoliation to remove dead skin and improve texture, followed by a shoulder, neck and face massage.

A nourishing mask is then applied and you are treated to a foot, hand and arm or scalp massage while it goes to work.

Toner is applied to refresh the skin, followed by a soothing eye gel and moisturiser.

55 minutes of pure pampering and relaxation!



Invaluable for easing the stress and tension of everyday life, regular massage can help to keep aches and pains at bay. Also useful in targeting specific problem areas such as tension headaches, neck pain, frozen shoulder, and muscle tension.

Swedish Back Massage
A deeply relaxing back, neck and shoulder massage using oils and sweeping movements to stretch and loosen the back, ease knots and tension and leave you feeling on top form. Option to add ThermaBliss Hot Stones.

Deep Tissue Massage
A longer, more intense and targeted back, neck and shoulder or full body massage. Deep, but not a sports massage, making it effective yet still very relaxing and enjoyable! Option to add ThermaBliss Hot Stones.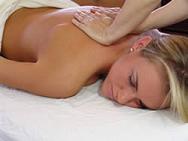 Indian Head Massage - A Brief History
Massage has always played an important part in Indian life and can be dated back as far as 4,000 years ago when it was referred to in the earliest Ayurvedic texts.

Indian Head massage, also known as Champissage, originates from a hair treatment incorporating massage, which was used by Indian women to maintain the condition of their long dark hair and to protect it from the drying effects of the sun. Oils such as olive, almond, coconut and henna were applied to the scalp and pulled through the hair. Herbs and spices were often added to the oils to improve the smell of the oil and to add to the overall therapeutic effect of the treatment.

Apart from the obvious benefits of an oil treatment through the hair, the massage itself helped tremendously by improving circulation to the scalp thereby stimulating hair growth. Many barbers in India began to offer invigorating head massage as part of their treatment. The word shampoo originates from the hindi word champi, meaning head massage.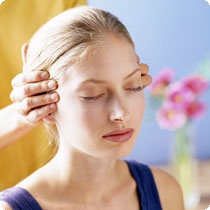 What is Indian Head Massage?
A treatment based on these traditional Indian techniques, the upper back, shoulders, neck, scalp and face are worked on during the treatment using a variety of massage movements. My IHM treatment is carried out with the recipient sat on a low-backed chair, with the use of coconut oil on the skin and hair for its additional benefits.
Effects and Benefits
The physical benefits experienced from Indian Head Massage may include:

Improved blood flow to head and neck, bringing with it oxygen and nutrients to nourish the body's cells and promote healing
Lymphatic drainage to the head and neck is stimulated and increased, therefore waste materials from the body are eliminated more efficiently
Relieves muscular tension and improves muscle tone
Improves mobility of joints
Helps to ease headaches and migraine
Relieves mental strain and aids concentration
Relieves sinusitis and congestion – persistent snorers might experience up to three nights of trouble-free sleep after the massage
Scalp massage relieves tension from the scalp and increases blood supply to the area, thereby improving the condition of the hair and increasing the rate of hair growth
Revitalises the whole body

Psychological benefits may include:
Alleviates stress, anxiety and depression
Helps the body to achieve a state of equilibrium – a balanced feeling of peace and calm
Clears the mind

Subtle Benefits:
Re-balances the flow of energy through the body
Stagnant energy is released

The use of oils can also provide further beneficial effects.